Did another google drawing on Saturday. this time with JODI and Rafael Rosendaal.
Same concept as before: Artists collaborate remotely on a drawing in realtime using the google docs platform. Spectators witness the drawing unfold, and are encouraged to purchase the current state of the drawing. After 30 minutes, the drawing is deleted, lost forever in the cloud.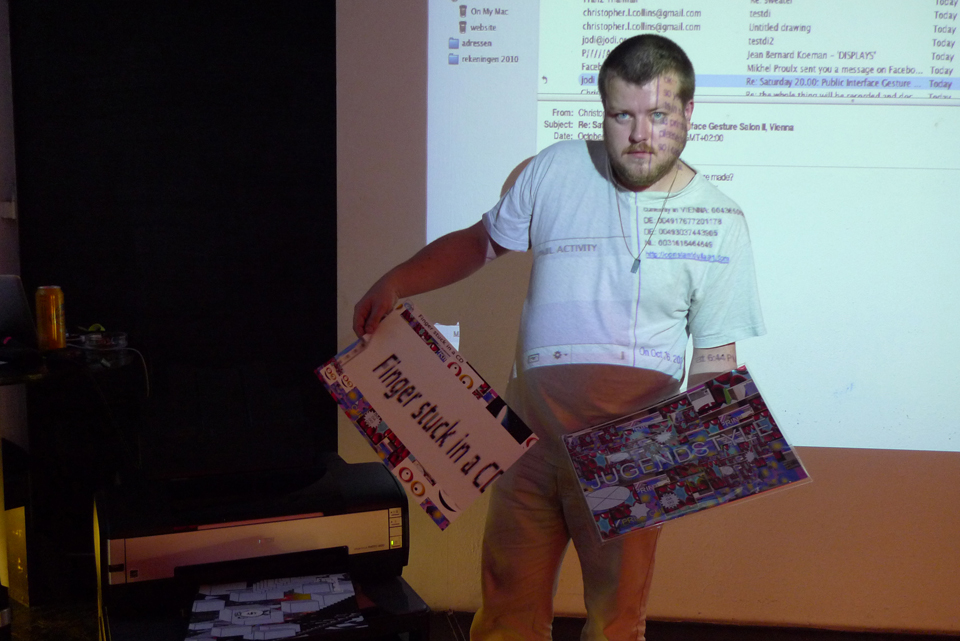 Constant Dullaart preparing the prints.

| | |
| --- | --- |
| | |
| Here's some of the drawing in progress. | The drawings being printed. |
The Press Release:
Kind Invitation for:
PUBLIC INTERFACE GESTURE SALON II, Vienna.
(Deutsche Version und weiterführende Links s.u.)
October 16th, 2010
Raum D, Electric Avenue, Museums Quartier, Vienna.
Room opens 19:30
Beginning 20:00
The focus of this event will be on artworks that are always extremely public, but are almost never viewed in public.
Works that are released in private, mostly in the middle of the night, and are made public with a very simple but very private interfacial gesture.
Lets make this interfacial gesture public, lets view these works in public, lets release these works in public,
"PUBLIC INTERFACIAL GESTURE SALON".
All these presenting artists will be physically present:
Ubermorgen
Peter Moosgard
Constant Dullaart
Bernhard Garnicnig
Monochrom
There will be a computer connected to the projector for the artists to ftp their work to a server, or to upload any new form of net-native art work.
After the ritual interfacial gesture of releasing the work (which will be seen by the audience), you will show the work and how it functions, with a Q&A.
It will be informal, but still serious enough to contextualize the work, to be open for questions, to engage in conversation.
There will be a live stream on ustream (http://www.ustream.tv/channel/raumd) available to others that could not make it to Vienna, with live chat.
Second event:
Chris Collins
JODI
Rafael Rozendaal
We will present half an hour of public Google document drawing, where they will communally draw inside a shared Google document.
This process will be viewed live, and during this process the audience can yell that they want to buy the current status of the drawing.
An assistant will quickly make a pdf of the drawing which will be printed on a photo quality a4 immediately , and will sell for €10,-
At the end of the evening a group picture will be taken, and will be sent together with the url's of the premiered pieces to a list of
weblogs, and audience members that filled out their email addresses on a list near the entrance.
This event has been made possible with the gracious help of Transforming Freedom, and WORM. Video documentation by tagr.tv.
Constant Dullaart is currently resident at the MuseumsQuartier in Vienna, mqw.at, hosted by http://transformingfreedom.org.
Article on Constant Dullaart: http://www.metropolism.com/magazine/2010-no1/constant-dullaart/
LINKS:
Ort / Location:
http://qdk.blogsome.com/der-ort/
Stream:
http://www.ustream.tv/channel/raumd
ARTISTS:
ubermorgen.com
duebomba.blogs.sonance.net/
constantdullaart.com
acgunsdcroses.com
monochrom.at
iamchriscollins.com/
jodi.org
newrafael.com
PRODUCERS:
transformingfreedom.org/.com
worm.org
tagr.tv
mqw.at
------------------------